Stephanie – King City, ON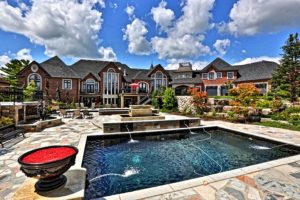 By stepping into Stephanie, you are whisked to a majestic and theatrical resort destination designed to accommodate "everyone".
Pine Valley was commissioned by the owner to address the deficiencies of this 3 acre property whereby all topsoil was stripped and 4400 cubic meters of fill was brought in to balance elevations and grade. After completing construction of the home, the owner envisioned creating the "dream backyard" that catered to large gatherings of hundreds of people with multiple landscape design themes and private areas for relaxation, conversation, sun or shade.
Water elements were integral in unifying and softening the hard surface themes of this residential resort. To power all the hydronically heated swimming pools, waterways, fountains and ponds, a special Cabana was constructed to house the intricate mechanical and pump systems. Ground Profiles for the pools and water features were precisely dug out, with piping and electrical systems making their way below ground into the basement area of the Cabana. All of the reinforced concrete was formed and poured into place to create custom pools and water features lined with Italian glass tile and accented by commissioned ornamental features including bronze fountainheads and spigots – representing cherubs, lion masks, Neptune and leaves. A 16-person hot-tube with privacy wall on the top landing concludes the water elements.
For leisure, patrons enter the shallow pool through a sloped walk-in beach, and can wade under a bridge to find a hidden grotto masked by a waterfall. There's more. As the water falls, hidden background speakers complement the ambient sounds to create a true private oasis of calm, relaxation and wellness.  For the more active patrons, a walkout from the center Fire Pit lounge joins a deep pool that challenges the best swimmers. After the vigorous swim, a flight of stairs out of the pool reveals the Cabana area.
Sustainable Energies. Photovoltaic panels helped irrigate and sustain the 3 acre property whereby greywater was collected by a system of pool deck drains and elevated eavestroughs stored in 15,000 liter cisterns beneath grade.
The Stephanie is rich with purposeful design features including a ventilated pizza oven, large format flagstone and masonry, large format retaining walls, lookout areas, a low-voltage illuminated soccer field, picnic areas, respite areas and an entertainment commons. There's more …
Please contact us for Site Visit and Tour availability.