"La Loggia" – Vaughan, ON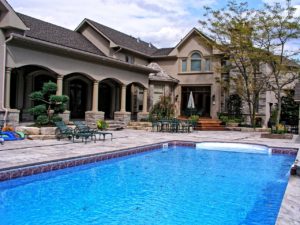 Like a noble summer residence, enjoy cooling winds and the fantastic view from the gallery of this classical Italian design theme.
Patrons arrive upon a wide-berth interlock driveway flanked by stately elevated berms. By making your way along a sweeping tumbled interlock walkway and manicured landscape, you will pass the Cabana elevated on an ipe-wood deck and into the square. Children play in the shallow wading pool beside the custom-formed shotcrete swimming pool. The Eramosa square-cut flagstone used for the pool deck and gallery perfectly match the gallery's columns and arches.  Armour stone retaining walls hold back a continuous perimeter garden which merges onto the ipe-wood walkout deck. At night, the columnar stone Firepit brings warmth and conversation while low-voltage lighting illuminates the square.
Please contact us for Site Visit and Tour availability.